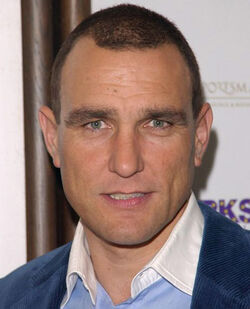 Vinnie Jones plays Scales on The Cape.
Vincent Peter "Vinnie" Jones (born 5 January 1965) is a retired English footballer who is now a film actor.
Jones represented and captained the Welsh national football team, having qualified via a Welsh grandparent. He also previously played for Chelsea and Leeds United. As a member of the "Crazy Gang", Jones won the 1988 FA Cup Final with Wimbledon.
He has capitalised on his tough man image as a footballer and is known as an actor for his aggressive style and intimidating demeanour, often being typecast into roles as coaches, hooligans and violent criminals.
Filmography
Edit
Year
Title
Role
Other notes
1998
Lock, Stock and Two Smoking Barrels
Big Chris
2000
Snatch
Bullet Tooth Tony
Gone in 60 Seconds
Sphinx
2001
Swordfish
Marco
Mean Machine
Danny Meehan
2002
Night at the Golden Eagle
Rodan
2004
The Big Bounce
Lou Harris
Tooth
The Extractor
EuroTrip
Mad Maynard
Blast!
Michael Kittredge
Survive Style 5+
Killer
2005
Number One Girl
Dragos Molnar
Hollywood Flies
Sean
(TV Movie)
Slipstream
Winston Briggs
Submerged
Henry
Mysterious Island
Bob
(TV Movie)
2006
Johnny Was
Johnny Doyle
She's the Man
Coach Dinklage
Played
Detective Brice
The Other Half
Trainer
X-Men: The Last Stand
Cain Marko/Juggernaut
Garfield: A Tail of Two Kitties
Rommel
(voice)
2007
7-10 Split
Roddy
Strength and Honour
Smasher O'Driscoll
The Riddle
Mike Sullivan
The Condemned
Ewan McStarley
Tooth & Nail
Mongrel
2008
Loaded
Mr. Black
Hell Ride
Billy Wings
Midnight Meat Train
Mahogany
2009
The Heavy
Dunn
The Bleeding
Cain
Piers Morgan's Life Stories
Himself
TV Interview Show
Assault of Darkness
Mr. Hunter
Year One
Sargon
Not Another Not Another Movie
Nancy
upcoming film
2010
You May Not Kiss the Bride
Brick
upcoming film
Smokin' Aces 2: Assassins' Ball
McTeague
Age of the Dragons
Magic Boys
Jack Varga
in production
The Irishman
Keith Ritson
upcoming film
Ad blocker interference detected!
Wikia is a free-to-use site that makes money from advertising. We have a modified experience for viewers using ad blockers

Wikia is not accessible if you've made further modifications. Remove the custom ad blocker rule(s) and the page will load as expected.