for other uses, see The Cape (disambiguation)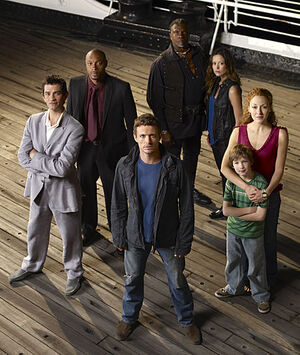 ---
The Cape is a superhero drama series created by Tom Wheeler and included as part of the midseason line-up on NBC .
It premiered with a two hour pilot episode, which aired on January 9 2011. A repeat viewing the following evening at the same time would see The Cape moved to its regular timeslot - 9.00pm EST/PST on Mondays.
The show takes place in fictional metropolis Palm City and tells the story of Vince Faraday, a family man and former police officer, who disappears, and is presumed dead, after being framed for a crime he didn't commit.
Unknown to the people of Palm City, including his wife Dana and son Trip, he is the true identity behind vigilant crime fighter The Cape.
Series SummaryEdit
Contribution Required
List of EpisodesEdit
Contribution Required
Cast And CharactersEdit
Starring
Also Starring
Guest Starring
Set and Film CrewEdit
Series Creator
Executive Producers
Simon West
Gail Berman
Lloyd Braun
Gene Stein
Tom Wheeler
Directors
Writers
Music Composed By
External LinksEdit
Ad blocker interference detected!
Wikia is a free-to-use site that makes money from advertising. We have a modified experience for viewers using ad blockers

Wikia is not accessible if you've made further modifications. Remove the custom ad blocker rule(s) and the page will load as expected.